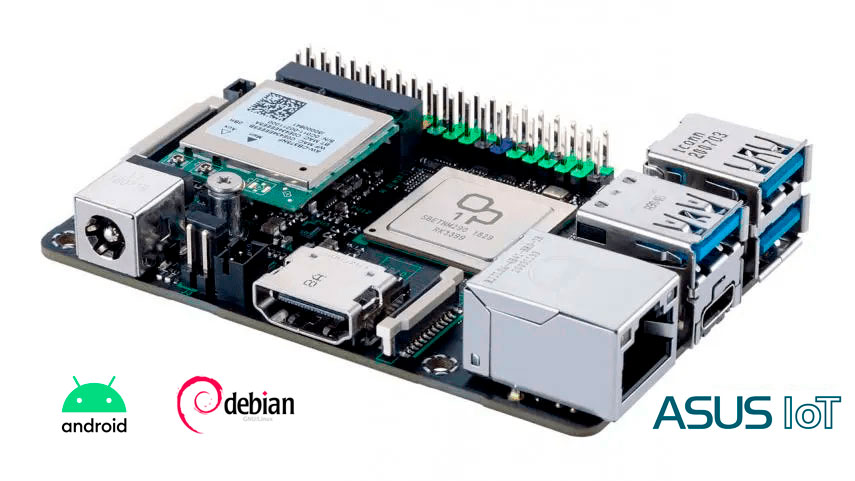 ASUS Tinker Board SBC
Tinker Board is a Single Board Computer (SBC) in an ultra-small form factor that offers class-leading performance while leveraging outstanding mechanical compatibility. The Tinker Board offers creators and developers a reliable and extremely capable platform for building and tinkering their ideas into reality.
Leading Performance
With its powerful and modern quad-core ARM-based processor — the Rockchip RK3288 — Tinker Board offers significantly improved performance versus other popular SBC boards. To provide the flexibility needed for different builds and projects, Tinker Board features 2GB of LPDDR3 dual-channel memory. Tinker Board is also equipped with an SD 3.0 interface that offers significantly faster read and write speeds to expandable microSD cards used for the OS, applications and file storage.
Robust GPU Performance & Functionality
Featuring a powerful and energy efficient design, the Tinker board supports the next generation of graphics and GPU Compute API. Powered by the ARM-based Mali T764 GPU, its GPU enables a wide range of uses, including high-quality media playback, gaming, computer vision, gesture recognition, image processing and stabilization, photography, and much more. Multimedia enthusiasts will appreciate the H.264 video and audio encoders and H.265 compatibility, including HD and UHD* video.
HD Audio Quality
This is an improvement in key areas that many SBC cards lack, Tinker is equipped with an HD codec that supports up to 192kHz/24-bit audio. The audio jack can support both audio and microphone output, without an extension module.
Multiple IoT Connectivity Options
The Tinker Board features standard connectivity options, including a 40-pin GPIO interface that allows connection to a range of inputs from buttons, switches, sensors, LEDs, and more. Tinker Board is equipped with a DSI MIPI connection for displays and touch panels. The secondary CSI MIPI connection is for connection to compatible cameras that enable computer vision, and much more.
Tinker Board also features Gbit LAN for Internet and network connectivity. A dedicated bus resource designed for the LAN port ensures consistent Ethernet performance. The integrated Wi-Fi and Bluetooth controller on the Tinker Board is protected with a metal cover to ensure minimal interference and better radio performance. An integrated IPEX antenna connector allows for easy antenna replacement or upgrades.
Tinker Board also features a full-size HDMI output that avoids the use of adapters. Plus, it includes four USB 2.0 or 3.2 ports for extensive peripheral and accessory connectivity.
Improved DIY design
Creators will appreciate the visibility and clarity of the GPIO connector enhancements as they are color segmented for quick and easy recognition.
The Tinker Board's PCB, dimensions, and topology meet a standard that makes it compatible with a multitude of chassis and accessories. The built-in MIPI headers also have colored tabs.
Tinker Board includes a heat sink, which helps to better work under heavy load or in hot environment.
TinkerOS ‧ Supported OS ‧ Applications
A Debian-based distribution ensures a smooth and functional experience, right out of the box. Whether you're browsing the web, watching videos, or writing scripts, TinkerOS is a great starting point for your next project or build.
Furthermore, TinkerOS has been carefully designed to be extremely lightweight and responsive. Running on top of Debian 10 is an LXDE desktop environment. This GUI is specifically optimized for SBC. It also features Plug & Play NTFS support that allows easy access to Windows-based flash drives and external hard drives. The included web browser has also been carefully selected and optimized. It is based on Chromium and enables speed and stability along with various extensions. The ASUS team has helped enable browser hardware acceleration, which enables better web and video playback, including HD resolutions on YouTube.
TinkerOS also includes a number of popular apps that allow for easy programming and development. These include IDLE/Python as well as Squeak/Scratch.
Alongside TinkerOS and their Debian Linux Tinker Board offering they also support the Android operating system . This enables completely different usage scenarios ranging from media playback, gaming, and much more.
Tinker board is also working closely with a wide range of popular apps to enable support and optimize functionality.
https://www.matrix.es/wp-content/uploads/2022/07/News.jpg
475
600
admin
https://www.matrix.es/wp-content/uploads/2019/10/Logo.png
admin
2022-07-21 09:46:56
2022-07-27 11:11:19
ASUS Tinker Board - Single Board Computer (SBC) in an ultra-small form factor