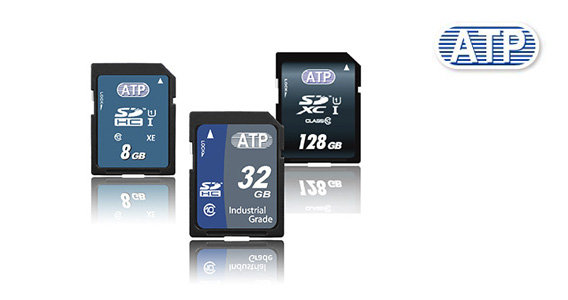 Being a leading provider of NAND and DRAM flash memory module solutions with high performance, superior quality and durability, ATP has a series of industrial SD cards at the head of the market.
With reliable performance in any environment, these reinforced flash products are designed to work constantly in conditions of extreme temperatures, shock, vibration and humidity. Its SIP (System-in-Packaging) manufacturing process, encapsulates all exposed components and points of failure to ensure that the products are fully waterproof (IEC 60529 IPX7), dustproof (IEC 60529 IP6X), shockproof, and ESD (electrostatic discharge). The memories can withstand an extended temperature range from -40ºC to +85ºC.
ATP SD/SDHC/SDXC industrial cards are designed for applications in demanding sectors such as automotive, healthcare, aviation, where there is critical data that requires the highest level of reliability, duration, and data integrity. SD/uSD and CF cards are available in different NAND Type configurations (MLC, SLC and SLC mode).
All ATP products come with a fixed BOM policy, which will guarantee the very same product over the entire lifespan until it becomes EOL.
Within the family of industrial SD cards, the ATP micro SD has multiple features for industrial applications such as military, automotive, marine, aviation, etc. Their MTBF (meantime between failures) at 25°C is 5,000,000 hours, and it has capacities from 512MB to 64GB.
Another kind of cards within the ATP SD series is the Compact Flash. Its S.M.A.R.T. (Self-Monitoring, Analysis, and Reporting Technology) functionality controls different resistance and reliability parameters, signaling activity outside the normal range. This information helps predict storage errors to take preventive measures. Their MTBF (meantime between failures) at 25 ° C is 2,000,000 hours, and it has capacities from 512MB to 32GB.
https://www.matrix.es/wp-content/uploads/2018/11/810886f3-d7df-4b23-a194-6e30329c8110.jpg
300
568
admin
http://www.matrix.es/wp-content/uploads/2019/10/Logo.png
admin
2018-11-07 09:53:18
2018-11-07 10:06:41
ATP INDUSTRIAL SD CARDS